Hope for Ishmael
Ministry of Taysir (Tass) Abu Saada
Once an Arafat Man
This page highlights the Hope for Ishmael ministry and its director, Taysir (Tass) Abu Saada. HFI is making a real, long-term change in the Middle East spiritual environment and culture, one that is very seldom reported in the media. If you're looking to make a very meaningful difference in this critical area, please consider becoming involved with this great ministry. We also ask our readers to pray for this ministry, particularly for the people of the area to come to the Lord, for Palestinian Christians as they face hardships and persecution, for safety and salvation of the Muslim workers, and for renewed visas and continued favor from the Israeli government.
Hope for Ishmael
".....your people shall be my people and your God, my God." (Ruth 1:16)
Hope for Ishmael is working to bring hope and reconciliation between Arabs and Jews to God the Father and to each other through education, cultural understanding and most importantly faith in Jesus Christ. They are equipping Christians, Muslim converts and Jewish believers to reach the unsaved Muslims and Jews. The conversion from Islam and the current socio-economic conditions provide fierce obstacles, but the coming generation is seeking hope and a future, and HFI is providing an answer. Peace can only be achieved between Arabs and Jews when individuals have a true heart change. Any political solution will not last.
Since its inception in 2001, Hope for Ishmael has formed many friendships across the globe, including Asia, Europe, and the Middle East, as well as ministry outreaches in regions of the world dominated by Muslim ideology. Members of the organization dream of believers, Arab and Jews, coming together in communities of faith, under the influence of God's living water.
For more information and to see how you can become involved, please visit the Hope for Ishmael website.
About Taysir (Tass) Abu Saada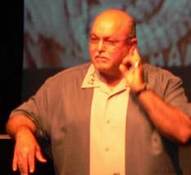 The founder and director of Hope for Ishmael, Taysir (Tass) Abu Saada was born in the Gaza Strip in 1951. After growing weary of refugee life, his parents immigrated to Saudi Arabia where he was raised a Muslim and was taught to hate the Jews, even their very existence. After the Israeli victory over the Arabs in the 1967 war, his desire t0 return and fight to redeem the Arab pride boiled over. Without his family's knowledge or consent, Tass traveled to Syria and joined Arafat's PLO Fatah Forces where he was trained as a sniper and assassin to kill Jews. He later also trained Arab children to fight and kill Jews. If he found a home belonging to followers of Jesus, he would sometimes throw a grenade inside and bombard it with a barrage of machine-gun fire. He has no idea how many people were killed and wounded in such attacks.
In 1974, Tass came to the United States. He found Americans generally to be loving and caring, completely opposite of what he had been taught, so he decided to stay by marrying an American girl (Karen). He became very successful in the hotel and restaurant business and became an American citizen in 1979.
In 1993, through a supernatural encounter with the Lord Jesus Christ, he became a "born again" believer. Ever since, Tass and Karen have been taking the message of Jesus back to the people he once hated and persecuted, the Jews and the Arab Christians, and to his former brethren, the Muslims.
See our article Once an Arafat Man for more on Tass's conversion, his new life and thoughts on the Middle East situation.
Once an Arafat Man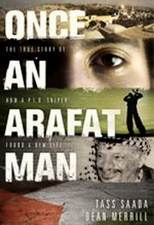 Taas Saadu's transition from Islamic terrorist to Christian missionary is recounted in a new book, "Once An Arafat Man: The True Story of How a PLO Sniper Found a New Life." I was fortunate enough to meet Taas and receive an autographed copy, which I'm looking forward to reading in the next few weeks. I'll follow up with a review at that time. In the meantime I highly encourage everyone to get and read this book.
The Publisher's notes read:
Tass Saada was a PLO sniper and Arafat's chauffeur, a Muslim immersed in anti-Israeli activity. As a young man he came to America, where he started a family, changed his faith, and began reconciliation with Jews. Later on he returned to Qatar to face his family and former boss, Arafat, with stories from his new life in Christ. The encounters are astounding. You'll embrace Saada's engaging story. You'll be enthralled by his conversion and the biblical teaching regarding Arabs and Ishmael. You'll be encouraged by his changed life and the story of hope in reconciliation through Jesus. Don't miss this enlightening true story by Tass Saada, written with Dean Merrill.